Wonderful Technique to Remove Paint from Wood
We got a lot of customers asking about the removal of paint from wood, yeah, we got several technique to have it done but there are still some precautions that need to be taken in consideration while having it done so. Here's some practical information about stripping paint from wood, designed to help you choose the right product.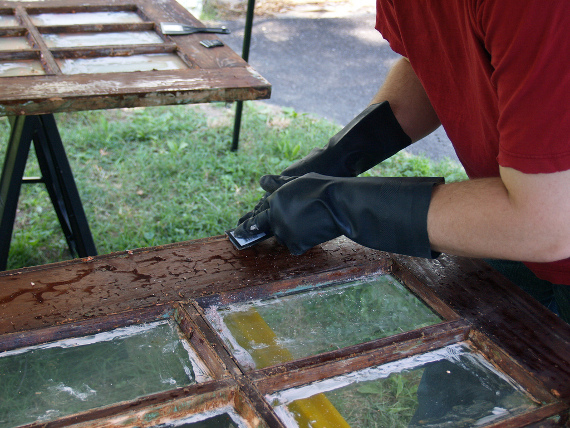 Removing Paint from Wood
Sometimes you come across the ancient wood which gets you filled with so much curiosity to know what the special thing could be that under wood, it might be something far more valuable. Now, removing paint from wood will be quite a strenuous task as it would take you a lot of time in having it done. No matter, what ancient or classical wood you come across, you'll just need to carry out the requisites in removing paint from wood which will be rubbish off the surface to reveal the stunning wood beneath. Thankfully contemporary stripping products are relatively simple, effective and safe to use. Much better than the bad old days when your only choice was pure caustic soda, nasty stuff!
Types of Stripping Woods
You can strip any kind of wood, even heavily-carved wood, as long as you use the right products and materials and follow the instructions meticulously, particularly if you want to strip something expensive, rare or precious.
Outdoor and indoor furniture
Exterior and interior doors and door frames
Stair rails and bannisters
Antique and vintage furniture
Window frames and sills
Floorboards
Parquet flooring
Built-in furniture
Skirting board
3 Useful Techniques to Remove Paint from Woods
Sanding is best kept for small projects unless you want to hire an industrial sander to remove paint and varnish from your floor. A quick word about sandpaper and wire wool, both of which can cause damage to wood unless you take it easy:  When you sand wood you take the surface off, and you need to do it as evenly as possible without rubbing it thin in places or creating gouges. Power tools help because their design forces you to apply even pressure. Whether you're sanding by hand or with a machine, experts recommend you take it slow and easy until you get a feel for it. There's plenty of good advice online about sanding wood to perfection, and some excellent guidance here on the Period Property website.
An electric hot air gun removes paint in no time but can scorch the wood if you're not careful. Scorching is less important, of course, when you're planning to re-paint the wood. Bear in mind, also, that a hot air gun can only be used as a paint remover, not a varnish remover as varnishes tend to go very gooey, almost glue like, when heated.
Chemical stripping is the best paint stripper for carved wood with hard-to-reach, intricate areas, but in reality you will probably use a combination mechanical and chemical methods for your project, especially if you have layer upon layer of old paint to take off. Chemical paint remover for wood delivers the best results, removes varnishes and paints faster than sanding and tends to be the least harsh. Care needs to be taken when using chemical strippers as these present their own care and safety issues.
"Chemical strippers, available from DIY stores, are good for intricately carved wood. You will need to follow the manufacturer's instructions as these vary. Make sure you keep the area you're working in well ventilated. Protect the floor with dust sheets or thick newspaper. To get a chemical stripper into nooks and crannies on intricate woodwork, use wire wool. Also, check the manufacturer's instructions to see if you need to neutralise the stripped woodwork."