How paint strippers unearthed Bath Co-operative Society ghost signs
You may wonder why you see signs of long-forgotten products adorning our buildings. Plainly and simply, they have been allowed to fade over the passage of time once the product was discontinued. Some may call this neglect but in many cases they add to the character of the building. With great affection we call them ghost signs as they are of historical interest.
Ghost signs are also a source of curiosity. For example, the typefaces that were fashionable at the time. A story of the product or building itself. Recently, a team of paint strippers on the outskirts of Bath city centre unearthed an ornate gem. After dismantling a plywood sign, they stripped away until they found a bit of gold leaf on the original sign. 54 years worth of paint later, the paint strippers revealed the original signage. Reading "Bath Co-operative Society Ltd", they were amazed by its discovery. So much so that passersby have asked them about the building and have had photographs taken beside the shop front.
The building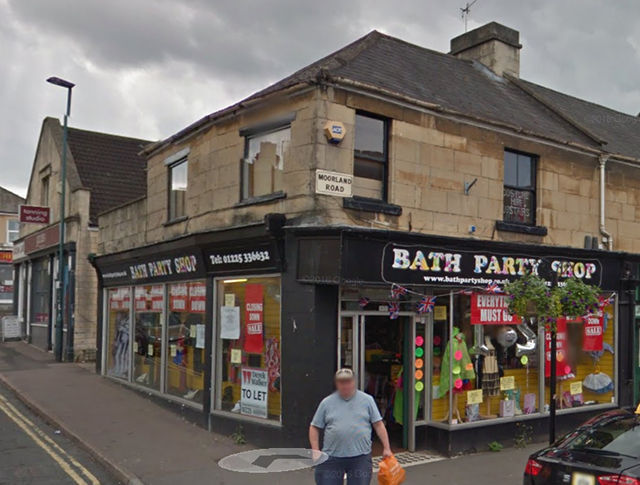 On the corner of Shaftesbury Road, 49 Moorland Road, Bath, started out as one of the Bath Co-operative Society's branches. In 1962, they left this address, along with a few other smaller units, for the former Scala Cinema (further along Shaftesbury Road). It has been a chemist, a junk shop, and (as seen above) latterly a party supplies shop. In its last guise, the party shop closed this summer.
In its place will be a casual dining restaurant known as Fire and Brew. Owned by the Krow Cole and Jenine Pellicci, with a bit of help from the Electric Bear brewery, they hope to open it next month, in time for the Christmas lights switch-on. It will specialise in real ale and real pizza. As for the ghost signs, we are happy to find they will be staying.
Krow Coles said in the Bath Chronicle, "I'm quite a fan of ghost signs and Bath is very rich for signs that are still clinging on just like this one."
Premium Doors and Stripping, 14 October 2016.