Studley Royal Water Gardens paint restoration project see the return of marble effect coating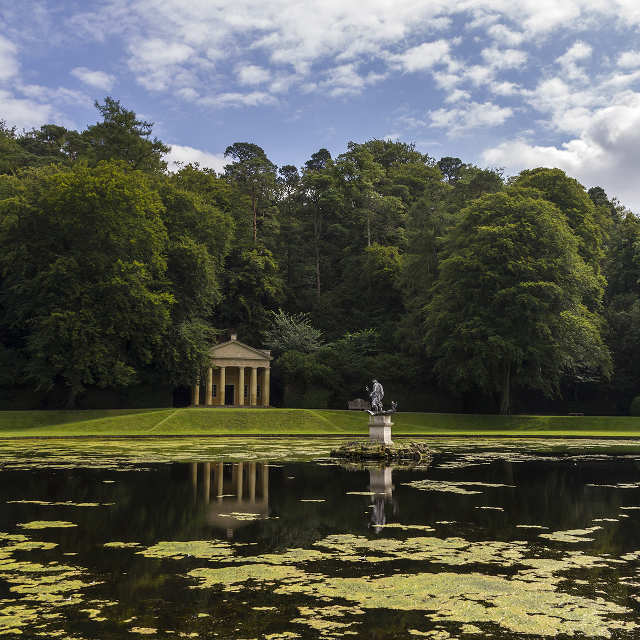 The Studley Royal Water Gardens in the grounds of Fountains Abbey, North Yorkshire, is a most photographed and visited part of England. On the banks of the River Skell, the Abbey is a UNESCO World Heritage Site. It attracts thousands of visitors from around the world. The water gardens are flanked with four lead statues: Neptune, Bacchus, the Wrestlers, and Galen. They originally had a coat of white paint. This year shall see the quartet being given a paint restoration job. How and why, may you ask?
Before the 1980s, all four statues were painted in white. In the 1980s, the owners of Fountains Abbey and its grounds (the National Trust) insisted that the paint should be stripped off. In doing so, the statues' natural lead colouring would be shown. According to research from 18th Century visitor accounts and images, the white colouring was existent all along.
With the help of Rupert Harris, one of the UK's foremost metalwork and sculpture conservators, the paint restoration job will see Neptune, Bacchus, the Wrestlers, and Galen in white again. The reason for the white paint? It was cheaper than building a statue with marble. Sculptors used lead for their statue, then daubed their creation with white paint. This gave the statues a marble effect at a fraction of going for the genuine article.
Its reversion to white paint is in keeping with Fountains Abbey and grounds being a World Heritage Site. Studley Hall and its grounds were inherited by John Aislable in 1693. After being a Chancellor of the Exchequer and being expelled from Parliament (for his part in the South Sea Bubble), he devoted more time to his garden. He didn't half create a spectacular garden, with a lake, canal, assorted follies and a water garden.
Without John Aislable's pioneering vision, we would have been deprived of such photogenic grounds. Plus the statues which are being granted a paint restoration (which will see them restored to their former glory). We also have his son, William Aislable to thank, who purchased the Fountains Abbey estate and combined it with the Studley estate.
Premium Door Stripping, 23 September 2016.