Water jetting and paint stripping forms part of TS Queen Mary restoration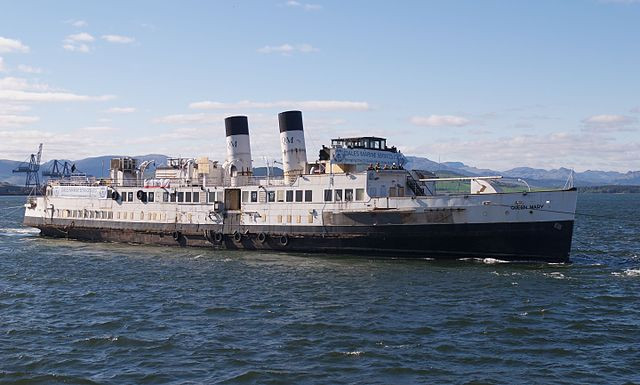 The restoration of an iconic leisure steamer has been given a boost by the donation of specialist coatings. Thanks to a campaign backed by the Sunday Mail newspaper (Scotland's equivalent to the Sunday Mirror), TS Queen Mary could be seen on the Clyde estuary again. AkzoNobel and Jotun donated the coatings which shall see the vessel restored to its former glory.
Built in 1933 by William Denny and Bros. Ltd. of Dumbarton, TS Queen Mary ferried many Glaswegians from the 1930s to the mid-1970s. It has been hailed as one of the finest turbine steamers of its class – and the last one to have been seen on the Clyde. For the first time since 1997, the vessel has been placed in dry dock, presently based at James Watt Dock in Greenock.
With the £300,000 mark already reached, the first step entails the stripping away of decades of dirt. This will be a delicate task as the water jets may be too abrasive for the hull's steelwork. As a consequence, jet washers will work on a half-hourly rota basis. Local apprentices will help to restore the ship.
After being in private ownership and a previous stint as a floating restaurant, the Friends of TS Queen Mary purchased the boat last year. Its change of ownership to the non-profit organisation was confirmed on the 21 October 2015 after the ship was prevented from leaving Tilbury dock. Its previous owner was criticised in 2013 for selling off one of the brass propellers.
The charity aims to restore the vessel as an interactive arts centre and a culture venue. Its patron is comedian and actor Robbie Coltrane OBE, who fought to save the Glaswegian vessel. After a two-year battle, it was towed 700 nautical miles to Greenock from Tilbury on the 14 May 2016.
To secure the iconic pleasure steamer's full restoration, another £1.75 million is required to restore the interior and its wooden decking. So far, The Friends of Queen Mary have found further funding by LCF Scotland (the Landfill Communities Fund in cooperation with Clydesdale Bank). It would be good to see it back in use again.
Premium Doors and Furniture, 19 September 2016.