Many individuals are keen to restore an antique piece of wooden furniture to its former glory. Not only will this allow the natural beauty to shine through, but such a process can dramatically increase the value of the item in question.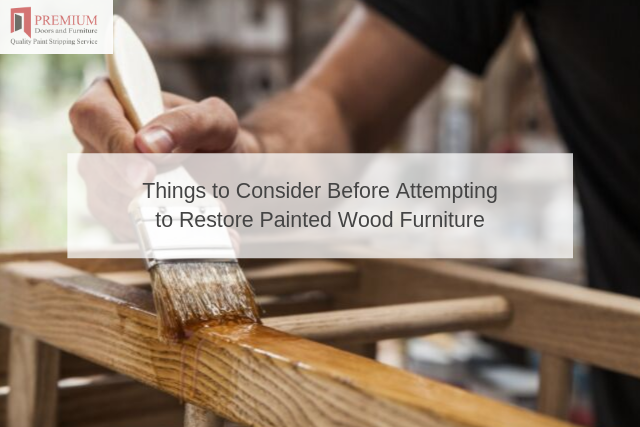 Still, such restoration may be rather tricky and damage can be caused if you do not take the appropriate steps. What are a handful of professional guidelines to follow and how can you ensure that the underlying wood is not unintentionally damaged?
Avoid Harsh Cleaning Products
It is first important to clean the area to be refinished. Many individuals tend to believe that harsh chemicals are the most appropriate solutions and yet, nothing could be further from the truth.
If anything, such solvents may damage the furniture. It is much better to employ a solution of warm water and dish soap. This will effectively remove any superficial dirt and grime.
Use the Correct Stripping Agent
Let's assume for a moment that you are planning to remove paint from a Victorian-era door. While it is always possible to contact a professional and obtain the current door dipping prices, many DIY enthusiasts prefer a more hands-on experience.
Before attempting the process, you will need to take into account the type of stripping solution that is applied to the overlying paint. Always remember that some formulations might cause the wood to become damaged.
Others are designed for materials such as metal or porcelain. This is why you need to carefully read the label of the product before committing to a purchase.
Purchase the Right Tools
Stripping paint or varnish from wood will also require the appropriate handheld tools. While a flat scraper may be ideal for large surfaces, you might require smaller devices for crevasses and corners (such as inlays or chair rails).
Take a look at the intricacies of the piece in question in order to be prepared in advance.
Furniture restoration is as much of a science as it is an art form. This is why such a process should only be undertaken if you have taken the appropriate steps.
If you instead wish to leverage the experience of trained professionals, it is better to contact Premium Door Stripping and schedule a consultation.